K Scott Danoff, DMD
Diplomate - American Academy of Dental Sleep Medicine
Diplomate - American Sleep and Breathing Academy
Chief of Prosthodontics - Northwell Hospital - LIJ campus
Snoring and Sleep Apnea Center of Greater New York
Two Convenient Locations
Queens Location
49-33 Little Neck Parkway, Little Neck, NY 11362
Manhattan Location
132 East 76th Street, Suite 2A, New York, NY, 10021
The SNORING & SLEEP APNEA CENTER of GREATER NEW YORK currently prescribe several types of sleep apnea oral devices, depending on the individual needs of the patient. These appliances have proven clinical scientific research supporting their efficacy and acceptance by patients. There are dozens of other styles and varieties on the market, but those not up to our standards will not be mentioned here. Only the appliances the SNORING & SLEEP APNEA CENTER OF GREATER NEW YORK prefer to prescribe are listed. Dr. Danoff, after an examination, will discuss with you whether an oral appliance would be useful for you and which type he suggests.
ProSomnus EVO
The ProSomnus EVO is the absolutely latest sleep apnea oral device that will be introduced to the market this spring. This appliance is light as a feather, yet one of the strongest and most durable yet. EVO is flexible and easy to deliver, small and comfortable (up to 2.5 less volume than the other standard appliances), precise and effective, hygienic and BPA free, yet durable enough to be the only OAT to pass the US Military Drop test (dropping the appliance from over 4 feet more than 25 times without breaking). The EVO is fabricated digitally and is designed to follow the shape and contours of your teeth to afford the most natural and comfortable fit. Were are proud to have been selected to deliver and fit these new devices months before the actual national launch.
ProSomnus IA
The ProSomnus IA series Sleep Device is easy to customize for each patient's treatment plan. With the ability to add anterior discluders, airway openings, different dual post angles, splint coverage options, compliance sensor capability, unlimited advancement aches and more, all with the intent of optimizing patient experiences. This is the most versatile of all of the sleep devices available on the market today.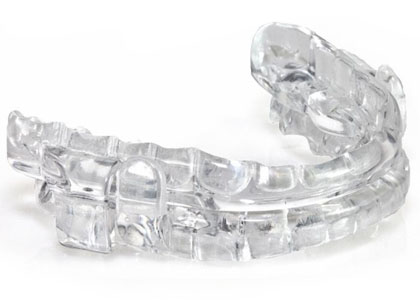 ProSomnus PH
The ProSomnus PH Precision Herbst-style Sleep Device is FDA cleared, Medicare E0486 verified and designed to provide a better experience for all patients. Incorporating the ProSomnus precision OAT platform, ProSomnus [PH] offers all the benefits of ProSomnus [IA] and [CA], using a Herbst-style advancement mechanism providing 7.0mm total titration. ProSomnus [PH] provides greater comfort, durability, smaller overall volume, ease of use and efficiency over predicate Herbst-style devices.
ProSomnus [CA] LP
ProSomnus [CA] LP is the only low profile Continuous Advancement OAT Medical Device for OSA. In addition to the ProSomnus platform advantages such as fewer side effects, biocompatible hygienic material, impression-free digital replacements and device customizations, [CA] LP uniquely offers clinicians precision Continuous Advancement without compromising patient comfort. These devices have an infinite number of settings and a 12mm range of adjustability, where others have mostly a 5mm range. ProSomnus [CA] LP utilizes proprietary technologies to resolve the archform asymmetries, manufacturing variances, bulkiness and other device design limitations of traditional dorsal style Continuous Advancement devices.
Respire Blue+
Respire Blue+ is a custom mouthpiece that features a dual block design with interlocking wings. It works by keeping the airway open in any sleep position and allows for a wide range of mouth movement. The new Respire Blue+ has a 4 wings design with 2 adjustable and 2 fixed wings. This appliance is not recommended for those with heavy grinding habits.
Respire Blue EF+
The Respire Blue EF+ (Endurance Framework) sleep devices offer enhanced comfort. They are similar to the Standard Blue+ but have an innovative, patented design and are made of alloy, making them significantly thinner yet durable.
Respire Pink AT
The Respire Pink AT features a simplified titration (adjustment) mechanism with a special user-friendly adjustment key. Its ergonomic design with telescopic hardware is ideal for people who experience teeth grinding. It works by allowing lateral and vertical movement, and opens up the airway for better airflow while holding the jaw in a position that prevents it from falling back and collapsing the airway. The new Advanced Titration (AT) mechanism offers simpler yet precise adjustments with measuring scales on arms. A special titration key with a handle for easier grip will provide an overall improved experience.
Respire Pink EF AT
Respire Pink EF AT features a simplified titration mechanism with a special userfriendly adjustment key. Its Endurance Framework (EF) is an innovative, patented design made of chrome, significantly thinner yet durable. Respire Pink EF AT is suitable especially for people who have larger tongues and experience bruxism at night.
Somnomed Herbst Advanced Elite
The Somnomed Herbst Advanced Elite appliance is the only milled, PDAC (Medicare) approved oral appliance with a soft inner liner. It has an 18% greater flexural strength, from precured PMMA and is covered by a three year, no questions asked warranty. This appliance has superior comfort.
Airway Management TAP
The Airway Management TAP appliance gives you more tongue space for greater comfort. It has Cobalt-chromium hardware (even stronger than surgical stainless steel) is nickel-free, 100% allergen-free, and has clinically proven, single-point midline adjustment. It comes with 3 hooks for a greater range of adjustment and can be fabricated out of a variety of custom-formed liners for superior retention. This device is rust and corrosion resistant.
Panthera
The Panthera D-SAD (Digital-Sleep Apnea Device) is made of type 12 polyamide, a resistant biocompatible nylon. The D-SAD is the smallest device in polyamide, a resistant biocompatible nylon. The D-SAD is the smallest device in the industry and it is the only one that is entirely printed using CAD/CAM technology. From a 3D scan of the stone model or intra-oral scanning, each appliance is designed specifically for you. The unique titration mechanism of the D-SAD uses rods which are made of the same biocompatible polymer as the device. The lengths of the rods vary from 21 mm to 35 mm and can be adjusted in 0.5 mm increments. Each D-SAD appliance comes with three additional sets of rods to allow for additional 3 mm protrusive movements.
Compliance Recorders
Many of our patients are professional car and truck drivers, bus drivers and train engineers. These industries are relying more and more on ways to be sure their drivers and alert and operating their vehicles safely. We rely heavily on sensors to assure these men and women are using their appliances while they sleep. Most of our devices can be designed with Compliance Sensors installed at the time of fabrication. We mostly use the Braebon DentiTrac Micro-Recorder sensors as they are the top of the line device platform. These compliance sensors have a 97.5% service longevity of 5 years. The DentiTrac sensor measures the time the oral appliance is worn while the patient sleeps to aid the Doctor in confirming a successful treatment plan for the patient. The sensor does not change the use, indications or care of the devices.
Oral Appliance Therapy